The technique your camera determines the light should be converted into pixels is locked into the JPEG when it takes a picture. When you press the shutter button, there is no information regarding how the light reaches the sensor. It is merely a group of meaningless pixels. To alter the pixels in your JPEG, use photo editing software like GIMP or Photoshop. However, if you have tried to enhance excessively black shades in a picture only to get a blurry smear of gray, you know that those little pixels lack a significant amount of critical data. A RAW file, however, is quite different. Very little interpretation is applied to the data regarding the light your camera captured. When you open a RAW file in a RAW editor, you can see how the photo would have appeared had you shot it using the camera settings that were recorded in the RAW file. However, all of the data the camera had on the light that was striking the sensor at that precise instant is also present. This means that you can open the same image in a RAW editor and essentially alter the image's white balance after it has been taken.
Unfortunately, you cannot work with Raw files in GIMP directly. To work with images you took in RAW format in GIMP, you will need a RAW converter to change them first to something that GIMP can be able to read like JPG or TIFF. The options from the RAW file are permanently applied to the JPEG or TIFF file after you convert the RAW image to it. GIMP will recognize the image when you open it just like it would any other JPG or TIFF. The original RAW file will still be on your system, just in case you want to adjust the settings or start over. You can't undo the modifications you locked into the JPG or TIFF, but you can always start afresh.
If your camera can shoot RAW photos but does not have conversion software that comes with it, you can use the UFRAW software that is designed to help you work with GIMP. You can use the following steps:
1. Ensure that you have installed GIMP on your computer.
2. Download UFRAW from your browser.
3. Open the package and follow the instructions for installation.
4. Open the GIMP application on your computer.
5. Go to File In the main menu.
6. Click on Open.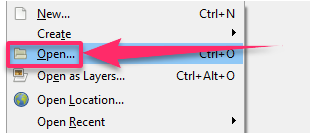 7. Navigate to the Raw file, and highlight it.
8. Click on Open.
9. Your RAW image will open in a new, funky-looking window, which is the UFRAW.
Now you can begin editing your RAW file. If you have any problem with using UFRAW, look at the instruction manual guide for UFRAW. You can now open your RAW files in GIMP after installing and learning how to convert using UFRAW. All the best!