From planning events, and launching new products to getting feedback through tough questions, Google Forms allows you a variety of ways to create surveys. With Google Docs, you can create custom surveys and send them to your clients while being able to track all responses. Besides, you are able to decorate your surveys to suit your theme and also make particular questions mandatory if that is necessary.
Having said that, we know that surveys are usually sent and responded to via email. Your respondents can answer through a web page as a questionnaire and share through social platforms with Google Docs. In this article, we shall go over how to use Google Docs in creating surveys.
Steps to create a survey with Google Docs

Step 1: Open Google forms

To get started, navigate to https://docs.google.com/forms/ and select the Blank document. Remember that Google Forms already has form templates to pick from. To review these templates, click the More option.
Step 2: Rename the form

Type in the title of your survey and include a description. Once you do that, click on the Untitled Question to type in your question.
Step 3: Select Multiple choice

Select the Multiple choice option. Here, you can choose how your survey questions will be answered.
For the paragraph and short answer response options, you have to create a blank field for recipients to fill.
Click add other to add more options
The checkbox option gives the recipients the freedom to select multiple responses.
The Drop-down option allows recipients to select an answer from a menu.
The Multiple choice option allows recipients to choose one answer from the options provided.
Step 4: Add more questions

To add more questions to your survey, click the side menu. The + button allows you to add items while the Tt option enables you to include subsection titles and descriptions. If you want to break the survey into sections, use the two rectangle icon.
Step 5: make some questions mandatory (optional)

To make certain questions mandatory, select the relevant switch. You can click on the trash or duplicate icons to erase or clone your questions, respectively.
Step 6: Preview the survey

Repeat the above steps from 4 through 5 as necessary, and then click on the Eye icon if you need to see a preview of your survey.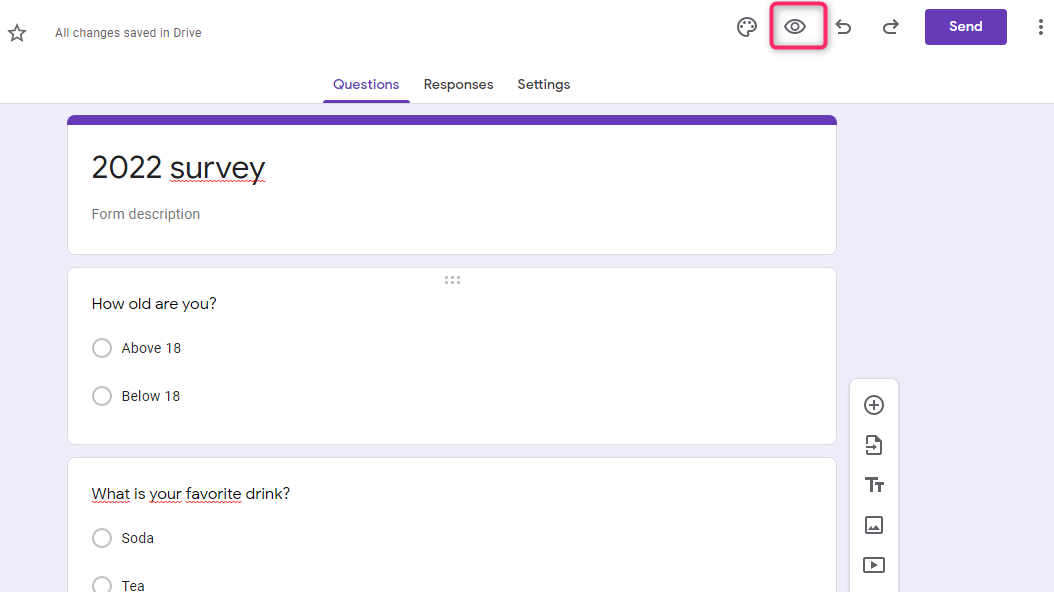 Step 7: Share the survey

Once you are done previewing your survey, click the Send button and then Enter recipients. If you want your recipients to respond to these questions from their emails, check the Include form in the email button.
Step 8: Embed the survey on a website or share on social media

Type in a polite subject line or a message to coax recipients to respond, and then click Send. You can also share your survey via a hyperlink by using the Link icon. Similarly, you can generate a code for embedding the study on a website and then click on the Google+, Twitter, or Facebook icons to share on Social Media.
Conclusion

Google Forms is a powerful tool that is capable of creating surveys with whatever complexity you need. Aside from that, it is seamlessly integrated with Google Docs to allow you to create these surveys from anywhere, select recipients, and then collaborate effectively.