Nearpod Add-Ons assist teachers and tutors in attaching Nearpod information and features to Google Slides directly. In this regard, teachers will be able to add assessments and other activities to Google Slides, which is useful in teaching students. Therefore, students can actively engage in a class by asking and answering questions, thus improving their understanding. Teachers will also be able to collaborate with other tutors when they create lesson content. This article teaches you how to get an Add- of Nearpod to Google Slides.
Follow the easy guidelines below;
1. Open Google Workspace Marketplace
2. Download the Nearpod Add- on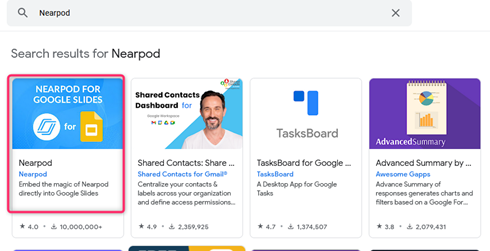 3. Open the menu bar at the top of the screen
4. Select Add- ons followed by Open Nearpod so that you can use the add-on
Ho to bring the lesson you have created to Nearpod
1. Open Google Slides
2. Select "Save Go to Nearpod" this is located at the bottom of the add-on
3. Go to lesson thumbnail
4. Download the lesson
The following steps will enable you to edit the Nearpod lesson;
1. Open Nearpod

2. Go to "My Library."

3. Select Edit, and this option takes you to Google Slides

4. Click to Open the Nearpod lesson

5. Click to confirm that you want to edit the lesson

6. Begin editing by clicking "Edit this Side."

In case you want to edit it from Google Slides, follow the steps given below;
1. Open Google Slides
2. Click to open the presentation you want to edit
3. Open the Nearpod add-on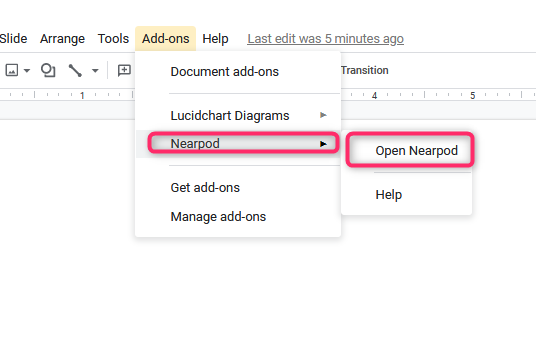 4. Click to confirm that you want to edit the Nearpod lesson
5. Click on ´Edit this side" once you find the part you want to edit
The following guidelines will direct you on how to collaborate on a Nearpod lesson with your colleagues.
Open Google Slides

Go to the lesson thumbnail and select the three dots

Click on "Share." You will share this "Nearpod version" of the lesson you had earlier created. The students who are recipients of the study can only make changes in the lesson via Nearpod.

Sharing a Nearpod Lesson
By using Nearpod, Open "My Library" and click on the three dots. Select Share. In Google Slide, Select File, then Share, and enter the email addresses of the people you want to share the lesson to.

It is not easy to use different apps and tabs to create a good lesson for your students. Using Nearpod, you are doing away with multi-tab teaching and integrating everything into one place. The advantages of using Nearpod lessons are that:
1. It is easy to make and use since you can directly add content like videos and pictures for the lesson. This, therefore, comes in handy for someone who has never used the feature before.
2. You can easily collaborate with your fellow tutors because sharing content is direct and fast. Nearpod is also becoming popular as many people are going for it.
3. You can also use your design templates.