With a google account, you can easily access and use google slides. Google slides are used to quickly create slideshows and presentations shared in real-time for personal or business use. You can create videos from google slides using the following methods;
Download Google Slides Presentations, then Convert them into Video
1. Visit Google Slides

Open google slides on your local file and open the presentation.
2. Click on the "File" button.

At the top of your screen at the menu bar, click on "File," then click "Download" on the drop-down list.
3. Select "Microsoft PowerPoint (.pptx)"

This action will automatically save your presentation. Now proceed to open the presentation using Microsoft PowerPoint.
4. Click on "File."

After pressing the "File" button on the top menu bar, click "Export." Head over to choose the quality of your presentation and select the seconds you need for each slide.
5. Click "Create Video."

Hitting this button converts the google slide presentation into a video and creates a new folder for the Video.
Record Your Google Slides Presentations as a Video File
You can use any video recording software to create the presentation video. All of them are free of charge; in this case, I will use the Cloud App.
1. Download and Install Cloud App

You can get the app from the app store of your device. After downloading, launch the app and log in to start recording.
2. Open your Google Slides presentation.

Start the slideshows after the video recording software is set to capture the whole screen.
3. Select "Record Your Screen."

You will see this icon on the Cloud App's drop-down menu on your computer's toolbar. Make sure you record everything, including the sounds, voices, and narrations.
4. Press ESC to end the recording.

To pause or resume the presentation, press F9. After you have finished recording, you can preview or edit the recording, then finally save the Video or upload it anywhere.
Use Google Slides Add-Ons to Convert Google Slides to Video
If methods 1 and 2 did not work well for you, you could try using the google slides add-ons such as the Creator Studio. The add-ons make it possible for the google slides to export a presentation into a video.
1. Visit https://gsuite.google.com/u/0/marketplace

After the link opens, search for "Creator Studio." You can also go to https://creatorstudio.dev/ to install the Creator Studio add-on. Grant the add-on the permission to access and go through your presentation.
2. After installation, open your Google Slides presentation

Select the "Add-ons" button on the top menu bar, and click on "Creator Studio" on the open drop-down menu.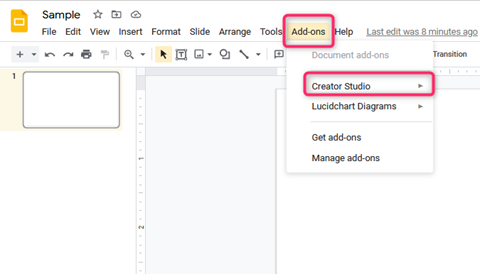 3. Select the "Create Video" option

The Creator Studio will open on the right; adjust your presentation's width, height, and time interval.
4. Select "Video File (MP4)."

This export format specifies that your presentation will be converted to an MP4 video.
5. Lastly, click the "Go" button.

The Video will be "automatically saved" to Google Drive. You will also notice a download icon at the end of the "Video File (MP4);" click the icon to download another copy to your local drive.